M 20X is a fully recallable mixer, with 16 remote controlled preamps and 11 motorized faders. Despite its dimensions, the M 20X packs a whole suite of capabilities, such as high-profile preamps, top of class DSP with studio-quality processing, WiFi remote control and a comprehensive set of multitrack recording and playback functions. The mixer offers a total of 20 analog inputs and 14 output channels, between the balanced analog outputs and the AES/EBU digital output.
Capturing multitrack recordings of your shows has never been so easy, with a low-latency 24×24 channel USB interface, a 20 channel internal SD-card multitrack player/recorder, and a stereo USB Drive player/recorder.
ENHANCED Z-CORE FX ENGINES
Four buss with studio quality FX, arranged as two reverbs, a programmable delay and a fourth FX which can be configured as delay or modulation. 
DESIGNED FOR PROFESSIONALS
Touring grade metal construction and reliable electronics, for the best durability over time. Travel with your mixer anywhere in the world, it's built for the road.
The high contrast interface lets you route and shape audio faster than ever, with a bright touchscreen, several buttons, five encoders, eleven motorized faders, and powerful remote Apps for iOS and Android.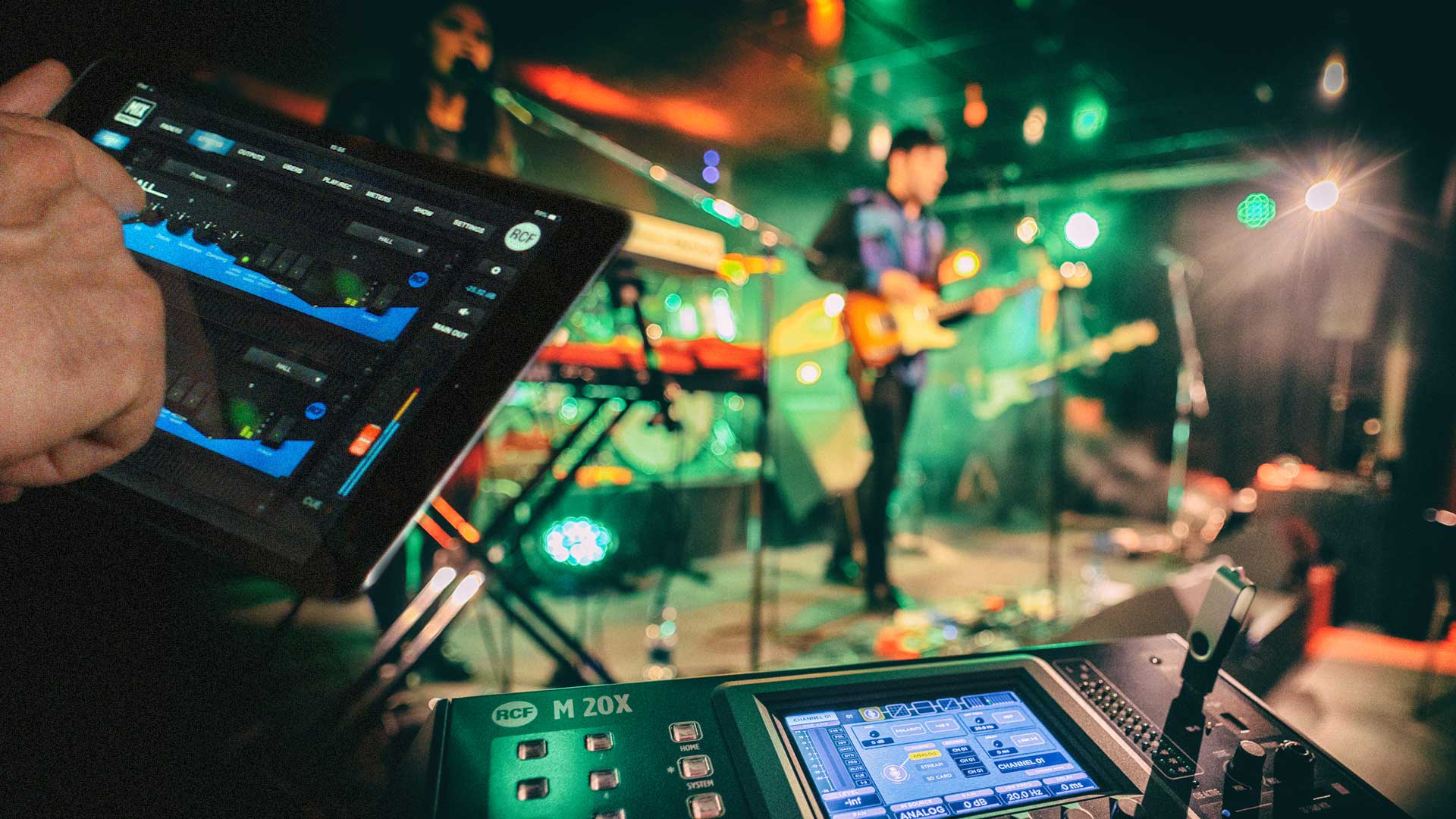 The mixer can be fully controlled and configured locally, but also remotely, by means of the M20 MixRemote control app. Every function is just one or two steps away, with intuitive navigation and hi-contrast interface in all menus. You have complete control of your live mix, all within one of the most compact systems you can find on the market.
STUDY WITH RCF 
RCF Audio Academy is the most effective way to understand audio technology at its best.
WE HAVE YOU COVERED 
One additional year of warranty if you register your products on the RCF website.
Learn more >
WHO IS USING RCF 
Discover installations, concerts and case histories full of interviews, tips, and tricks.